Pantone's 2019 Color of the Year
LIVING CORAL
Posted 12/05/2018
---
Featured Colors: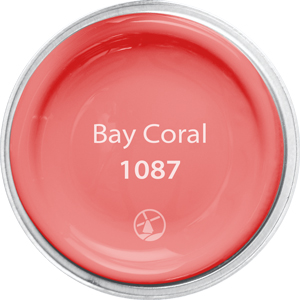 Pantone has chosen Living Coral - a vibrant hue that embraces us with comfort and buoyancy in our continually shifting environment as their 2019 Color of the Year.
To get the look, choose Diamond Vogel's 1087 Bay Coral.
For 20 years, Pantone's Color of the Year has influenced product development and purchasing decisions in multiple industries, including fashion, home furnishings, and product design.
In reaction to the onslaught of digital technology and social media, we are seeking authentic and immersive experiences that enable connection and intimacy. Sociable and spirited, the engaging nature of coral welcomes and encourages lighthearted activity. Symbolizing our innate need for optimism and joyful pursuits, coral embodies our desire for playful expression.
Coral emits the desired, familiar, and energizing aspects of color found in nature. In its glorious, yet unfortunately more elusive display beneath the sea, this vivifying and effervescent color mesmerizes the eye and mind. Lying at the center of our naturally vivid and chromatic ecosystem, Coral is evocative of how coral reefs provide shelter to a diverse kaleidoscope of color.
Inspired by Pantone's 2019 Color of the Year, these accents pair well to create no-fail color combinations:
Looking for a similar, coral-inspired color? Try one of these shades. Coral also works well when paired with other shades, such as aquas, grays, and browns.