Trend Colors | Spring 2014
Posted 04/09/2014
---
Patinas and distressed finishes influence home color and design
For me, springtime brings to mind grass turning green, yellow daffodils, tulips blooming and the fragrance of lilacs.  The return of warm weather also means the return of color to our world.  After a long winter, we crave color and look for ways to incorporate it into our living spaces.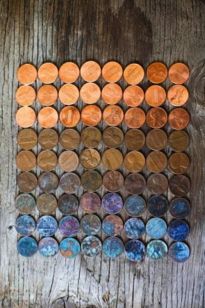 Trend Watch
Patinas and distressed finishes along with the use of texture are influencing color and design trends.  Worn and textural finishes evoke a feeling of authenticity and freedom often missing in our fast paced, technology filled life.  The perfect example of this is the emerging influence of copper.  This earthy metallic changes and morphs into amazing colors as it ages.  Watch for copper's color influence on furniture, flooring and interior finishes.  Color is also showing up embedded in textured and distressed products for the home.  Find color hidden or layered in crevasses, folds and inside products adding bonus pops of color in unexpected ways.
 
Diamond Vogel® Paint Spring 2014 Color Palette;
| | |
| --- | --- |
| 1291 Dancing in the Spring Set your creative spirit free with this youthful, inspiring hue. Purple is trending back in a big way and pairs well with popular greys, greens and teals. | 0400 New Foliage A soft muted sage that offers quiet sophistication. A new classic that pairs nicely with accents like deep aqua, charcoal and purple. |
| 0211 Light Lichen The perfect neutral between gray and beige. A great background for any color. | 0494 Dark River A dark neutral that adds strength and balance to soft colors and neutrals that are so popular today. |
| 0981 Tuscan Wall Spring's new beginning inspires this soft citrus orange. Brighter oranges have been in the spotlight, but softer versions are emerging to add a new twist to this popular hue. | 0212 Big Spender This magic neutral is shadowy and earthy, perfect to pair with other colors or use solo for a sophisticated statement. |
| 0702 Peg's Promise Soft and soulful, a serene chameleon that moves from blue to green. Pairs well with soft yellow, gold or purple. | 0386 Hipppolita A modern gold that offers a warm welcome. This earthy hue creates happiness all around. |
| 1152 Berry Patch This playful rebel adds a boost of energy to any color scheme. A cross between red and purple, this fun fuchsia demands attention and pairs well with green, blue or any neutral. | 0437 Bowling Green A versatile green with a fresh perspective. A saturated botanical that pairs well with brown, purple, orange and gold. |
| 0461 Calm Breeze A vintage mint with a modern flair. Naturally calming, this transparent green embraces the light and pairs well with browns, soft yellows and grays. | 0213 Coastal Fog This dusky brown is perfect for showcasing almost any color and versatile enough stand on its own. |
| 0592 Quiet Peace This classic blue offers a modern take on navy. Blue continues to be an important trend in almost all shades and tones. | 0687 Stillwater Light and fresh, this clear blue-green makes you dream of happiness. An optimistic color that pairs with orange, purple and most neutrals. |
| 0624 Blue Pot This soulful grey- blue offers a sense of mystery. Soft and restful, this hue pairs well with browns, golds and greens. | 0493 Spacebox A complex blue-green accent that complements brights and neutrals. Paris well with red, purple, brown and gold. |

Not sure what color to select?  Diamond Vogel offers two great ways to preview color.  Color Sampler is a quart sized sample that helps you test color before you buy.  There is no better way to try a color than to paint out a sample in the space, so it can be viewed with your own furniture, lighting and accessories.  You can also try testing out color in our Envision software found at diamondvogel.com/envision, upload a photo of your project and visualize any of our colors before you paint, it is just that easy!  Stop by your nearest Diamond Vogel Paint Store to find the perfect color for your project.