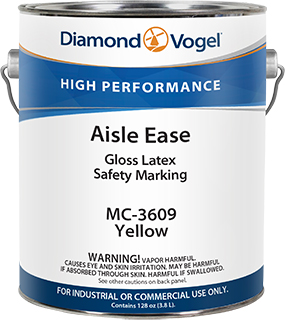 A Cost-Effective Solution for Floor Safety Markings
Aisle Ease provides a highly cost-effective solution for floor safety markings in factories and warehouses. It is carefully formulated to eliminate downtime, allowing foot traffic in as little as 90 minutes. By taking advantage of a latex formulation, Aisle Ease is very low odor, allowing for work to continue nearby while painting is underway. The gloss sheen enhances the appearance of the marking and provides a cleanable surface, reducing the need for recoating.
Apply to interior or exterior surfaces such as traffic aisles, staging areas, masonry surfaces, safety zones, and walkways.
States of Illinois and Colorado
Features
Bright visible lines
Resistance to dirt pick up
Easy cleaning
Increased safety and awareness
Available in white and yellow
Product Information Sheet