Over 90 years of industry experience allows Diamond Vogel to provide detailed finishing solutions for your coating operations. By delivering top-notch professional service, our outstanding coatings ensure continued success through proven performance. If our selection of pre-mixed coatings doesn't meet your needs, our ISO-registered laboratory is prepared to develop a custom formula that is sure to satisfy your coating performance and application requirements.
Column image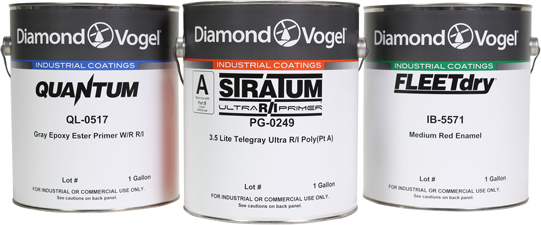 Technologies
Our wide range of industrial liquid coatings allows us to meet your exact requirements. With Diamond Vogel Industrial Coatings' exceptional durability, vast range of colors, and proven performance, our experts will help you find the right fit for your coating needs.
Service
At Diamond Vogel, we know there's no substitute for reliable technical service and in-depth product knowledge. Our friendly, experienced specialists will guide you every step of the way in order to explore and evaluate your coating needs.
Solutions
A thoughtful, comprehensive approach to Industrial Coatings is key here at Diamond Vogel. Once your requirements have been defined, we add yet another layer of collaboration by working hand-in-hand with our lab to develop the ideal custom coating formula for your operation.
Information
Our extensive list of products could very well hold the ideal option for your coating operation. Explore our product database — complete with easy-to-use filters and search options — to find the coating solution that meets your needs.