2015 Home Design & Style Trends
Posted 02/09/2015
---
Looking to infuse fresh style into your home, but not sure where to begin? We've done the homework for you! Here's what designers say will be trending in 2015. The short story? More mixing, less matching.
Living Room Trends
With its clean, simple lines, mid-century modern furniture has rose to popularity and continues to be an important design style in 2015. To avoid being gimmicky, pick mid-century accents (think a beautiful buffet or stunning star burst mirror). Less is more!
Blue is back! Think a deep sea blue mixed with an inky denim. (Design often takes a cue from the runways.) Not sure you can take the dive into navy? Try an accent wall with cream and navy stripes, or simply opt for new throw pillows in this on-trend hue. This color also works well with Pantone's Color of the Year.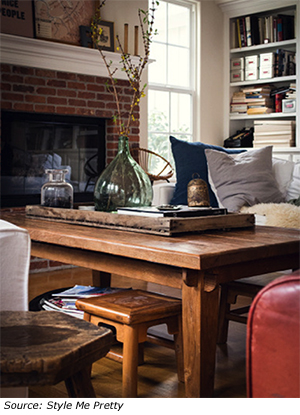 Natural, unfinished wood like driftwood is replacing glossier finishes in living spaces. Sustainable, eco-friendly woods are gaining popularity in all aspects of the home. Design experts predict that we'll continue to see more reclaimed, repurposed, and recycled wood. (Don't miss our sneak peek at color predictions to find paint color to coordinate with these trends!)
Framed prints with calligraphy and hand-lettered art were incredibly popular in 2014. This year, we'll see this art trend toward a messier, slightly less feminine brush lettering and script. (Imagine a thick paintbrush dipped in watercolor).
Kitchen Trends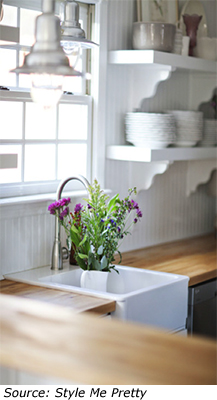 Functional beauty will dominate kitchen design. Open shelving keeps kitchens inviting and personalized. With a nod to the natural wood we'll see trending, we'll also see a movement toward casual, distressed floors. And experts agree -- don't be afraid to mix it up this year. Modern finishes can mingle with traditional cabinetry for a look that's all your own.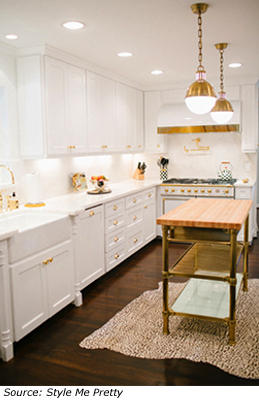 Want to dress up your kitchen? Go for gold!  The look today (which can be mixed with chrome for depth and drama) is far from the dated finish of the '90s. Designers predict we'll be seeing a lot more gold both in polished and distressed finishes.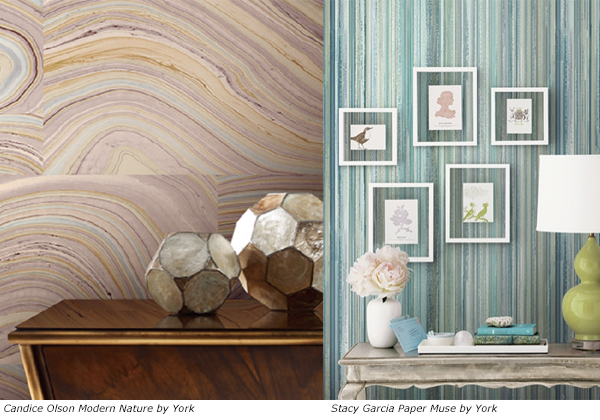 Wallpaper is also making a comeback. Geometric prints, nature inspired designs as well as unique patterns and textures are just some of the exciting styles.  If you have not looked at adding wallpaper, this might be the year to give it a try!
Bathroom Trends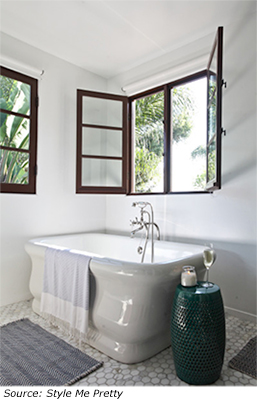 Stand-alone, vintage-style tubs exude simplified luxury, and designers predict we'll be seeing a lot more of them this year. Spa-like soaking tubs will replace expansive (and expensive) showers of the past. Embrace the trend by choosing a freestanding bath that complements your space. Have a modern master bath? Opt for clean, angular lines. Prefer a throwback feel? Search for an antique-inspired claw foot tub.
Natural beauty is a re-occurring trend in 2015. To incorporate the calming look into your bathroom, choose light, unfinished wood. Reinvigorate your style and add a pop of green with succulents -- no-fuss and easy plants that add interest!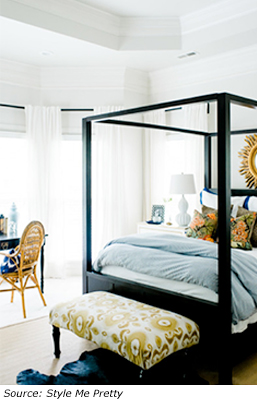 Bedroom Trends
Four-poster beds are back! But instead of outdated oak spindles, we'll see more simplified, modern versions. Clean columns bring interest and flow to the bedroom.
Contrasting furniture will continue to trend -- no need for a matching nightstand, headboard, and dresser. Instead, mix things up and aim for interesting pieces that match your personal style.