2018 Spring At Home Magazine
DESIGNER INSPIRATION
Posted 04/25/2018
---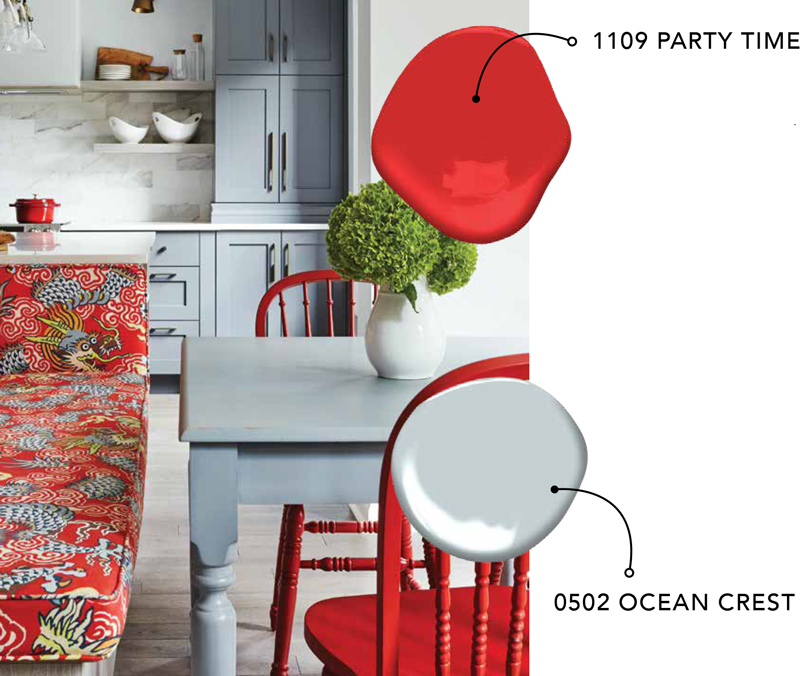 In Baum's "The Wizard of Oz" novel, Dorothy's magic slippers were first penned as a pair of silver pumps. Interesting that, for the movie, they were changed to ruby red. Gilbert Adrian, MGM Studios' chief costume designer knew that a pop of red would stand out vividly against the yellow-brick road and who are we to argue with the logic of Technicolor history? Those slippers played a central role in the film just like the pop of beautiful PARTY TIME 1109 painted wooden chairs and bold accessories do against the neutral but hardworking OCEAN CREST 0502 in this movie-set worthy kitchen. It's just like Dorothy said, "There's no place like home." 
---
The perfect white is an ongoing debate in the design world, which will likely go on indefinitely. If you're seeking a white that's not really white, and subtly touched with a hint of blue-gray, try ILLUMINATING EXPERIENCE 0628. It adds just enough cool contrast against a truly white trim and allows the walls to be a quiet back drop for all the other elements in a room. Let's face it, there's really no upstaging a pretty pink sofa in this fab living room. Besides, an Academy Award for a supporting role sparkles just the same as one for lead actor!
---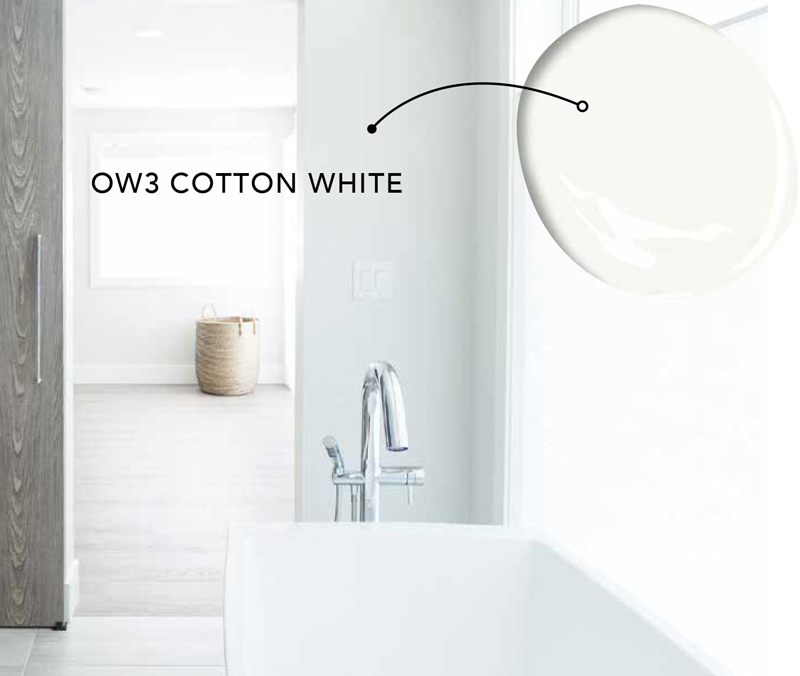 Ask any designer for their top five whites and we'd be willing to bet, COTTON WHITE OW3 is in the mix. And with good reason; it's toned look creates an off-white option that doesn't lean in the direction of any particular color, but remains soft and comfortable. Classic, crisp, and clean, COTTON WHITE coupled with gray washed-wood tones, over-sized stone tiles, and natural materials in this gorgeous coastal home proves once again it is the white with which you cannot go wrong.
---
 CYPRUS SPRING 0411 is a beautiful crisp white that's not too bright and is equally at home covering trims, doors, ceilings, and walls. A trick often taken from a designer's playbook is to swathe an entire space in a single color. Reducing contrast between walls, ceilings, and trim leaves site lines uninterrupted and makes rooms feel large and airy. Execute that trick in a simple white with no undertones and you'll bounce natural light around for days!
Read this excerpt and more in our 2018 Spring edition of Diamond Vogel's At Home Magazine