Avoid the Hype!
PRIMERS ARE STILL IMPORTANT
Posted 08/01/2016
---
Paint and Primer in One is a great name, but it's not new. Diamond Vogel's finishes have been applied directly to surfaces for years. All of our finish paints can be applied to existing coatings that are in good shape and properly prepared. They'll look great and offer outstanding performance, but primers are still important.
The Paint and Primer in One product campaigns promise less work, and it's appealing. However, on some substrates applying a coat of primer will save you exertion, provide a better looking job, and prevent failure. It is important to evaluate the substrate and current conditions to determine whether a primer is needed, and if so, which primer is best for your project.  
---
stain blocking
Some speciality primers are specifically engineered to prevent troublesome stains from bleeding through the finish coat. Bare redwood and cedar should always be primed with a product capable of blocking tannins, otherwise you'll be disappointed with unsightly blemishes in your finish. Diamond Vogel makes several primers designed for different applications that are capable of blocking stains. Find more information on Diamond Vogel's amazing stain-blocking primers, click on the product names or contact a helpful Diamond Vogel associate.
---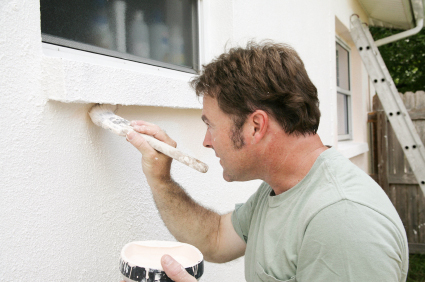 enhanced adhesion
Primers typically adhere to the surface better than finish coats. In some cases, this enhanced adhesion is not necessary, however on difficult substrates, specialty primers can be used to allow the finish paint to stick and prevent premature failure. Diamond Vogel's Diamond Prime Universal Primer/Sealer promotes adhesion on very difficult substrates such as ceramic tile, fiberglass, galvanized metal, and gloss alkyd coatings.
---
corrosion prevention
Some primers contain specialty pigments to prevent rust and corrosion on metal surfaces.  Diamond Vogel's CoteAll Multi-Purpose Alkyd Primer and Vers-Acryl 300 Acrylic DTM Primer are carefully formulated to provide outstanding protection to metal surfaces prone to deterioration.  
 
---
controlling cost
Primers are typically less expensive than finish coats and are designed to seal the substrate preventing the substrate from absorbing the finish coat also referred to as hold out, allowing the finish paint to go further.  This can lead to a large cost savings.
Primers are still important and will give you the best results, save time and frustration, and give you the results you want.  Ask the experts at Diamond Vogel for help with the right primer for your project.