How Pattern Improves Small Spaces
Posted 07/01/2014
---
Having a small space can seem like the biggest obstacle to decorating and design. Pattern can actually make close quarters come alive and seem bigger, not smaller and cluttered as you might expect. Using patterns in small spaces can offer you a chance to show your personality and take risks. Since it's a small space, it's less of an investment in time and materials.
Let's take a look at how you can play with patterns in small spaces to add interest and style to your home.
Incorporate wall coverings

Today's wall coverings are nothing like the wallpaper from back in the day. New versions are like pieces of art with amazing colors and design. You can use wall coverings with bold patterns on an accent wall to give a small space an artistic feel or unexpected feel of luxury.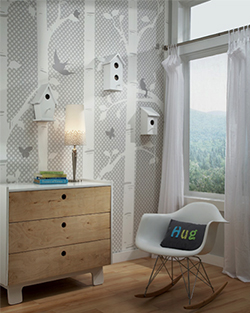 Garden Butterflies and Birds Mural from Peek-A-Boo by York Wallcoverings

Fancy Frames from Peek-A-Boo by York Wallcoverings
Play with Paint

When I was a teenager, my sister and I repainted our room bright blue with various shapes on it—I remember tracing records for circles! That might not be a great idea today, but you can paint in patterns to create visual pop, from lines to swirls and other creative patterns.

LRI Design
Balance patterns

If you're not sure how to get started playing with patterns, you can begin by choosing one bold, patterned accent piece. For example, in a small bedroom boldly patterned bedding can be balanced by choosing solid pillows and throws—or vice versa.

Michelle Hinckley

J+G Design LLC
Patterns and graphic designs are a fun and useful way to turn your small space into an exciting and beautiful room. Whether they're added with paint, wall coverings, or textiles, pattern is a great way to renew your small space.
---
The combined expertise and experience of member companies makes Color Guild uniquely qualified to serve as a definitive resource on color and coatings.