New Year's Resolution
ADD COLOR TO YOUR HOME
Posted 01/31/2013
---
Raise your hand if you made a New Year's resolution!
Adding a bold color to your home may seem a bit scary and a little too permanent for some people. The trick to stepping outside of your color comfort zone is to incorporate colors that work with your existing color scheme verses doing a complete overhaul.
Create an Accent Wall
An accent wall can define a space, add interest to a room and even highlight an architectural feature of your home. Here is some advice when considering an accent wall:
Not all walls are suitable accent walls. There needs to be a reason for an accent wall and it needs to make sense in the overall design plan. A fireplace wall, a headboard wall or a window wall all make good accent wall candidates.
Accent walls don't always have to be paint – Wallpaper works great for accent walls.
Accent walls allow you to incorporate bold colors into your home without committing all four walls– try dark charcoal, or dark chocolate color.
Give your Colors Some Punch
Adding a bold punch of color to an otherwise neutral space can have more impact than adding lots of color all over. Just take a look at these rooms featured on Apartment Therapy. In the top photo, all it took was a beautiful plant and a throw blanket to give the room some life. And the turquoise throw pillows in the bottom photo look so sharp next to the white sofa.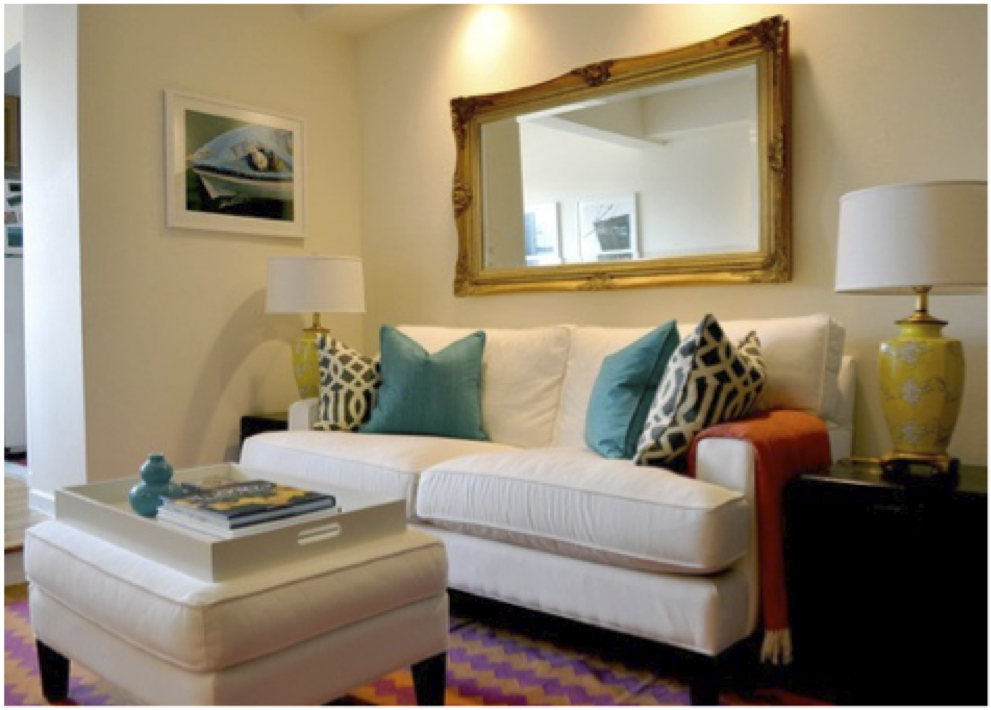 You Don't Need to Put Paint on the Walls
Adding color to your home doesn't necessarily mean that you have to put paint brush to wall. We love this idea of painting ceiling medallions in a bold color and then displaying them on a wall. Choosing a large object, such as these medallions, makes a big impact in a space with very little commitment.