Top Paint Colors for Your Laundry Room
Posted 09/11/2015
---
New paint colors can take your laundry room from drab to fab. Create a fresh, clean space you won't mind spending time in with these on-trend laundry room paint colors.
lights & darks
Mix and match these versatile laundry room paint colors for a variety of looks -- just remember to consider your lighting. If your space lacks natural lighting, opt for colors with high light reflectance value (LRV). A color's LRV measures the amount of visible and usable light that reflects from (or absorbs into) a painted surface. Simply put, LRV measures the percentage of light a paint color reflects. Learn more about LRV here.
we've done the dirty work for you!
Whether your utility room is small or spacious, these clean hues work together to complement a variety of laundry room styles. Painting a laundry room is an easy weekend project with lots of wow-factor. We've sorted through the best of the best for an on-trend paint palette that will get you on your way to a lovely laundry room!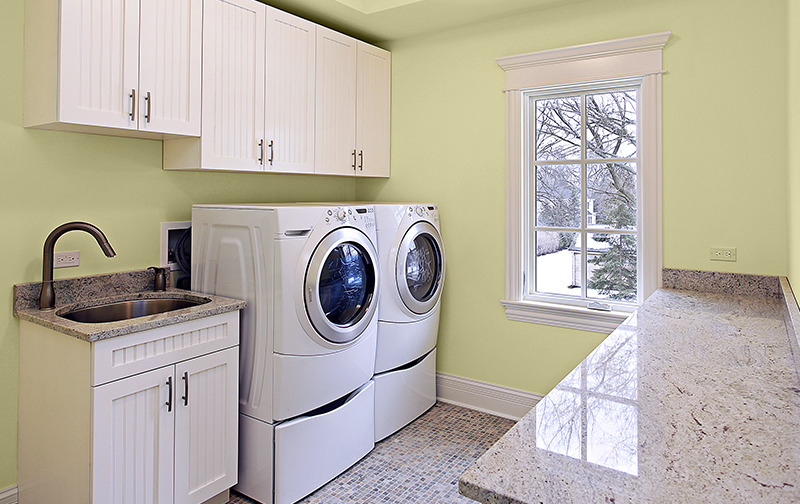 Sawgrass Cottage 0399
WHY IT WORKS: This hard-working hue is light enough to brighten your space, but bold enough to bring life to a dull or dated laundry room.
MIX IT UP: Finish the look by giving the rest of your laundry room a facelift, too. This contemporary color pops against deep espresso cabinets and bright white trim.
Cape Hope 0496
WHY IT WORKS: This clean, cool blue gives an updated spin on a more traditional sky blue. With just a hint of green, it freshens any space — perfect for a laundry room.
MIX IT UP: Give your laundry room dimension and depth with wainscoting! Add wainscoting to the bottom half of your room, and paint it a cool off-white like White Kitten 0022. Then, use Cape Hope to add color to the top half the room for an updated, preppy beach feel.
Buffed Plum 1317
WHY IT WORKS: Gray is gorgeous no matter the hue, but we're partial to this chic color that has just a hint of purple.
MIX IT UP: Since this mid-range shade is a bit darker, opt for crisp white cabinetry and appliances for a chic-look that may just actually make you want to do a load of laundry!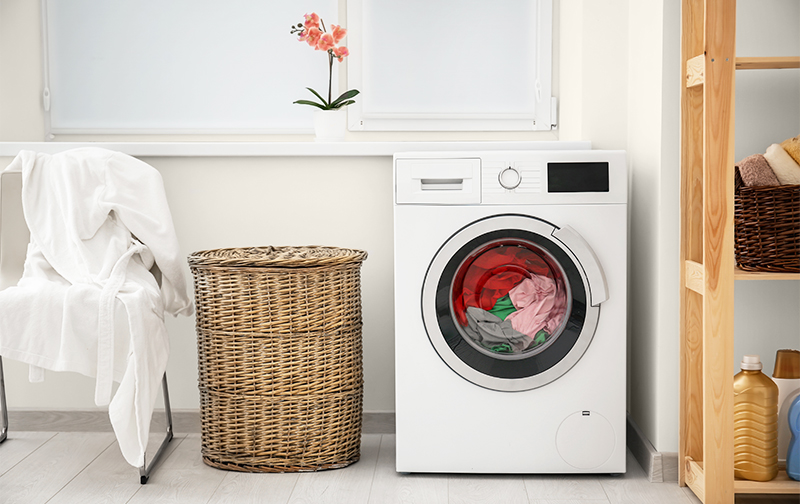 Luna Moon 0017
WHY IT WORKS: This delicate off-white creates a dreamy vibe. It's light and bright, making it a stellar choice for small spaces or dimly-lit basement laundry rooms..
MIX IT UP: Whites aren't wishy-washy! Painting your laundry room a clean neutral allows you to stick with neutrals or accentuate with color in creative ways — think fun fabrics for curtains or pretty, patterned rugs!
Cape Cod Bay 0633
WHY IT WORKS: Navy is trending! We love this deep, muted shade that almost has a slate-gray tint.
MIX IT UP: Use as an accent wall behind your washer and dryer for a room that wows! For the rest of the walls, go up a few shades and paint your walls Star Mist 0630 or Polished Cotton 0629. This will give you a classic monochromatic take that echoes trendy ombre and graduated-gradient looks.
not sure which color to select?
Diamond Vogel offers two great ways to preview color:
Color Sampler
Color Sampler is a quart sized sample that helps you test color before you buy. There is no better way to try a color than to paint out a sample in the space, so it can be viewed with your own furniture, lighting and accessories.

Envision
Envision color visualizer helps you visualize any of our colors before you paint. Just upload a photo of your project - it is that easy! Learn More