Posted 08/06/2014
---
Colors Your Neighbors Love
There is no question that greys, browns, beiges and soft-toned nature colors are currently the top trending colors for interiors. These colors are relaxed, calming and easy to use with most furniture and accessories. These colors also cross-over well if you are updating a room using classic furnishings and want a more modern vibe.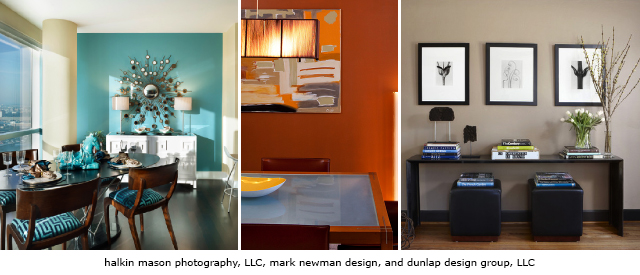 We thought it would be helpful to ask our color experts, those that color consult with you everyday at Diamond Vogel Paint Store to offer their top picks of the colors selling in their markets, giving you a list of tested colors that your neighbors love.
Here is what is trending in these markets:
Candace C. from Ames, IA
"Lots of greys are big right now. We are selling 0196 Overgrown and 0197 Thistle Gray. Grey is important in clothes and bedding currently. Accessories have lots of bright colors and grey goes with it all and really looks great."
Katie A. from Vadnais Heights, MN
"Stone colors like 0421 Silverado Ranch, 0448 Ice Flow, 0198 Young Colt, 0205 Wood Shadow and darker greenish/blues like 0465 Earthen Cheer, 0471 Miracle Bay, 0472 Micropolis (my favorite) 0485 North Beach Blue and 0486 Paradise City (my second favorite!) They're handsome, versatile and not beige!"
Rebecca V. from Fargo, ND
"Grey tones are very popular here. We are seeing a lot of interiors of whole houses painted in this way. We are using 0539 Place of Dust and 0540 Praise Giving."
Joann R. from Scottsbluff, NE
"I love the oranges like 1008 Mango Tango and pink that a few brave souls are using. Mango Tango is surprisingly versatile, I painted this in my home; it goes with purple, green, brown or charcoal accessories."
George E. from Green Bay, WI
"It seems beiges and taupes remain more popular. These colors seem to blend with most interior furnishings. We are selling 0537 Dove's Wing, 0418 Onion Skin, 0538 Santo, 0341 Loch Ness. These colors seem to have worked where the user is a bit shy of stronger colors."
Faith C. from Sioux Falls, SD
"Sea colors, softer grays and gray-browns. A lot of our decorating market is currently showcasing natural elements such as grass-twines, leather, dyed palms and jeweled tiles. Influxes of new residents from the East Coast are causing more contemporary, darker stains and cooler palettes."
Sherry L. from Omaha, NE
"I think we have moved away from beige and tan. The greys have again been noticed as a neutral with all the choices that opens up. Warm greys 0539 Place of Dust and 0541 Smoky Tone and the cooler 0524 Nomadic Travels and 0525 Marseilles. These are great backgrounds."
Joe P.
"We enjoy the lighter browns and heavier off whites. They work with everything. These colors cover great and work in any application and are a calming, soothing type of color we can all appreciate at the end of the day."
Diamond Vogel Paint Fall 2014 Color Palette
Note: On-screen and printer color representations may vary from actual paint colors.

0552 North Island
(Sioux Falls, SD)
This magic color works with everything. It is shadowy, flexible and offer a modern edge. So versatile, it pairs well with most colors.

0227 Moonscape
(Des Moines, IA)
This aged organic takes its cue from mid-century modern design. Great accent that pairs well with many of the greys and browns currently trending.

0537 Dove's Wing
This feather soft, lightly toned white captures a cloud- like feel, a fresh canvas for your walls. Pairs well with any color

0541 Smoky Tone
(Omaha, NE)
With a nod to industrial influences, this cool grey is a great foundation for modern design, pairs well with black and white and soft toned colors.

0570 Grey Locks
Hovering between grey and brown, this sophisticated chameleon is the perfect deep neutral to pair with most colors.

0186 Christmas Ornament


(

Burlington, IA

)


Authentic and earthy, this rich brown is the ultimate luxury neutral. Very popular for accent walls and pairs well with trending colors like blue, orange and popular greens.

0448 Ice Flow
(Vadnais Heights, MN)
Peaceful and serene… this softly toned blue creates a quiet haven, an escape from the world. Pairs well with cream, chocolate and yellow.

0198 Young Colt
(Wichita, KS)
A transformative taupe that bridges the gap between brown and grey. An easy neutral that pairs well with natural wood tones as well as blue, green, soft yellow and orange.

0273 Sandstone Palette
The perfect color to combine and coordinate, this pale sandstone is adaptable as it shifts personality depending on how it is paired.

0500 Bowman Blue
(Mankato, MN)
An oceanic blue that is as calming as it is stimulating. This complex hue pairs well with deep reds, rusts, greens and oranges.

0212 Big Spender
An inspired grey-beige with depth and personality. Sophisticated and chic, a neutral well suited to pair with any color.

0052 Spiced Carrot
(Burlington, IA)
This friendly terra cotta offers a warm welcome and pairs well as an accent to both warm neutrals and cool greys.

0295 Spanish Cream
(Nebraska)
The earthy side of yellow, this soft cream creates energy in a space when paired with greys, browns and neutrals.

0465 Earthen Cheer
(Vadnais Heights, MN)
Approachable and easy-going, Earthen Cheer is a great stand-alone accent, but also adds interest to a space when paired with beige, grey or other trending neutrals.

0240 Spiced Rum
(Sioux Falls, SD)
A naturally soft-toned gold that appeals and pairs with many wood tones and popular browns.

0214 Wildwood
Earthy and real, Wildwood emerges from the ground as an accent for both warm and cool colors. Great with brighter colors such as peach, orange and blue.

0540 Praise Giving
(Fargo, ND)
The foundation of a great color palette, this soft grey has a modern edge and balances any color it's paired with.

1008 Mango Tango
(Scottsbluff, NE)
This soft orange's strength is in its upbeat energy and ability to deliver a versatile punch of color. Pairs well with brown and grey along with blue and green.

0184 Macadamia Brown
(Nebraska)
This hard-working hue will deliver a warm, inviting feel. With the popularity of browns in all shades, this is a proven winner! Pairs well with wood-tones as well as soft nature colors.

0687 Stillwater
(Ames, IA)
A light and clean teal blue that adds energy with its upbeat nature. Pairs well with whites, browns and greys.
 
Not sure what color to select? Diamond Vogel offers two great ways to preview color. Color Sampler is a quart sized sample that helps you test color before you buy. There is no better way to try a color than to paint out a sample in the space, so it can be viewed with your own furniture, lighting and accessories. You can also try testing out color in our Envision software found at diamondvogel.com/envision, use the pre-loaded projects or upload a photo of your own space and visualize any of our colors before you paint. Stop by your nearest Diamond Vogel Paint Store to find the perfect color for your project.