Trend Colors | Winter 2014
Posted 11/15/2013
---
Modern styling promotes soft, serene color influence
Clean lines and up-lifting styles are the driving force behind the modern movement currently influencing design.  Younger consumers are finding inspiration in the simple lines and dynamic styles influenced by mid-century modernism.  Part of this influence is the refreshing affect that soft and serene colors are having on this current trend.  Stylized florals and geometric accents are also instrumental in this open and liberating design approach.
Our Winter 2014 trend colors are saturated, chalky and soothing, offering a fresh updated look to modern style.  Bright oranges, blues and greens are still important accents, but a softening of color will drive trends into 2014.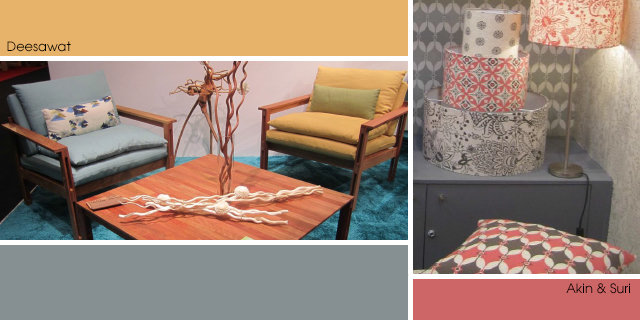 Diamond Vogel Paint Winter 2014 Color Palette
0448 Ice Flow  Peaceful and serene… this softly toned blue-grey creates a quiet haven, an escape from the world.  Paris well with cream, chocolate and yellow.

0032 Ice Dream   Crisp and clean… a fresh white, kissed by green. Prefect partner to almost any color, especially deep browns, greens, yellow and berry reds.

0395 Crack Willow   Weathered and aged, this sage green offers an edgier update to this botanical green.  Toned slightly, this color partners with deep reds, orange and toned peach.

0144 Film Noir  Lose yourself in this ultra-dark brown, the comfortable side of black.  An accent color that pairs with almost any color.

 


0385 Howdy Neighbor  A friendly, easy yellow that pairs well with many of the toned colors found in furniture and accessories currently.  A great color for open floor plans where you need to transition and combine many colors.
 


1004 Peace of Mind   Naturally comfortably, a new classic for those looking for the perfect accent color. Pairs well with yellows, greens and blues.

 


0337 Urban Charm  Warm and inviting, Urban Charm is a warm beige with a slight gray undertone. Pairs well with almost any color, the perfect neutral.

 


0577 King Fischer   Grey's new look… dry, chalky and complex.   A toned gray-brown accent that balances lighter, brighter colors on the palette.

 


0451 Evening Dove  Evening's last light, a restful brown with a hint of green.  Paris well with toned orange, peach and soft yellow. 
 

 


0462 Resting Place   A relaxed blue-green that offers a 'restful' retreat from a hurried day.  The perfect color for bedrooms, bathrooms or any space seeking an escape from the world.  Pairs well with browns, golds and purples.    


0891 Silence is Golden   A warm backdrop that adds color without needing to be the center of attention.  A rich neutral that pairs with deep blues, burgundies and browns.


0500 Bowman Blue  An oceanic blue that is as calming as it is stimulating.  This dramatic blue pairs well with deep reds, rusts, greens and oranges. 


0520 Slate Tint   Sophisticated and edgy, a complex gray with a purple undertone.  A perfect backdrop to sage greens, peach and yellow.


1060 First Lady   An up and coming color trend, this updated peach has taken its place as a color to watch in 2014.  Pairs well with sage greens, browns and grey.  


0207 Ares Shadow  Larger than life, a deep earthy brown with personality.  Use as the perfect grounded color with orange, peach, yellow and blue.  


0373 Burning Idea  A balance between organic green and rough luxe, a deep accent with a calm, confident presence. 
 
Not sure what color to select?  Diamond Vogel offers two great ways to preview color.  Color Sampler is a quart sized sample that helps you test color before you buy.  There is no better way to try a color than to paint out a sample in the space, so it can be viewed with your own furniture, lighting and accessories.  You can also try testing out color in our Envision software found at diamondvogel.com/envision, upload a photo of your project and visualize any of our colors before you paint, it is just that easy!  Stop by your nearest Diamond Vogel Paint Center to find the perfect color for your project.