Add Bang to Your Home
MAKE YOUR FRONT DOOR SPARKLE
Posted 04/29/2013
---
Looking to add some pizazz to your home to increase curb appeal? Want to impress visitors to your home with minimal investment and effort? Repainting your front door can be a quick and easy project with big payoff in the appearance of your home.
With careful planning, repainting a front door can be done in a day. It's wise to have all the materials you'll need on hand and ready to go. Begin by selecting the new color for your door; starting a week before you plan to paint will help you get the color right for you without feeling rushed.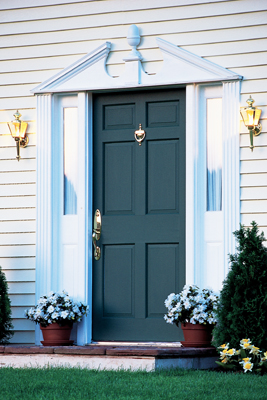 Diamond Vogel has numerous tools to help you in selecting an amazing color that will enhance the look of your home. Diamond Vogel's MyHaven Exterior Color Collection offers nature inspired exterior colors in coordinating groups. You can view this collection online or stop by a store to pick-up a copy. Once you have narrowed down your color search, take a photo of your front door and the surrounding details and visit our online Envision color visualizer where you can upload a photo and apply your choices directly to your own door! It is that simple! We can also mix your favorites in our Color Sampler. It's real paint, so you can apply a sample at home, viewing it in different lighting and surrounding materials. Our Color Samplers are an inexpensive confidence boost, a great way to verify you've made the right choice.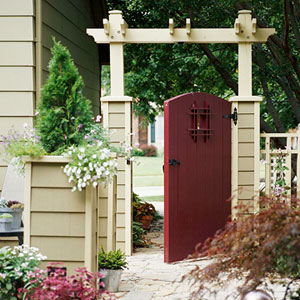 The day before you plan to tackle the project, visit your local Diamond Vogel Service Center to gather the necessary supplies. Front doors take abuse, so we recommend our Nu-Cling Acrylic Latex Enamel. Nu-Cling holds up extremely well to the abuse a front door can expect and is designed to resist color fade so your door will look great for years. Nu-Cling is latex so cleanup will be a breeze, and it is specially formulated so it doesn't stick to other painted surfaces like traditional latex products. Nu-Cling is available in both satin and gloss sheens. Satin is a common sheen choice for front doors, while gloss can provide bold, stunning results. While a quart should be plenty to provide two coats on standard size front doors, you may want to buy two. This will ensure you don't run out and have to delay your project's completion and it allows you to have an adequate amount for touchup.
To make this project go off without a hitch, we recommend priming your door with our Diamond Prime Universal Primer/Sealer. Diamond Prime provides outstanding adhesion to a variety of substrates, helping ensure your door looks great for years. A quart of Diamond Prime is sufficient for standard size, exterior doors.
Ask our paint experts for advice on how to properly prepare your door for painting. Every project can be different, but our knowledgeable paint professionals will guide you in doing the job right the first time, and make sure you have the tools that'll make the job easy. Read the back of the can for important information on how to apply the products, drying times and re-coat information.
Painting your front door is a great way to add some bang to your home. With a little preparation, expert advice and amazing paint from Diamond Vogel, your project will be trouble-free, and you'll be enjoying the sparkling results.