2020 Color of the Year
SILENCE IS GOLDEN 0891 BY DIAMOND VOGEL
Posted 09/13/2019
---
Featured Colors: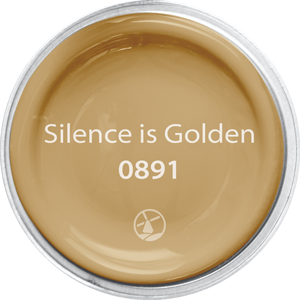 A relaxing gold honoring authentic workmanship with its timeless and warm patina. A saturated hue representing a true connection to comfort.
Pairing Silence is Golden with the 2020 Trend Colors adds warmth, creating a point of interest to the soft and muted groupings, or balancing brighter pairings without diminishing their presence.
---
Strong & Soft
Symbolizing strength, compassion, and courage, this soft gold is perfect for navigating and empowering one's busy home.
---
Versatile & Seamless
Silence is Golden flows between interiors and exteriors as a welcoming hue, pairing seamlessly with either warm or cool tones.
---
Welcoming & Natural
Silence is Golden's majestic nature and worldly wisdom make it a color ready to stand in the spotlight, or elegantly blend into the backdrop of your life.
---
2020 Trend Colors to Pair with Silence is Golden
Try our 2020 Color of the Year:

Color Sampler
Color Sampler is a quart sized sample that helps you test color before you buy. There is no better way to try a color than to paint out a sample in the space, so it can be viewed with your own furniture, lighting and accessories. Learn More

Envision
Envision color visualizer helps you visualize any of our colors before you paint. Just upload a photo of your project - it is that easy! Learn More

2020 Color Trends
Our 2020 Trend Palettes provide subtle yet lively and distinct measures of inspiration along our daily paths. It could be memories of a cherished piece, soft shades that offer a respite at the end of the day, or vibrant tones to inspire and motivate us to move beyond hesitation and obstacles. Learn More