Blissful Blues
BLUE HUES TO CALM & ENERGIZE
Posted 05/12/2020
---
Featured Colors:
With lockdowns and social distancing very much a part of everyday life, many of us are still spending most of our time at home. Transforming your interior spaces right now is a welcome and productive distraction, and the results will give your spirits a lift!
Inspired by natural elements, this month's palette focuses on the versatility of blues. Offering the dual power to calm and energize, three true blues from light to dark evoke oceans and endless skies. The addition of a softly warming neutral and a cooler off-white highlight this blue trio.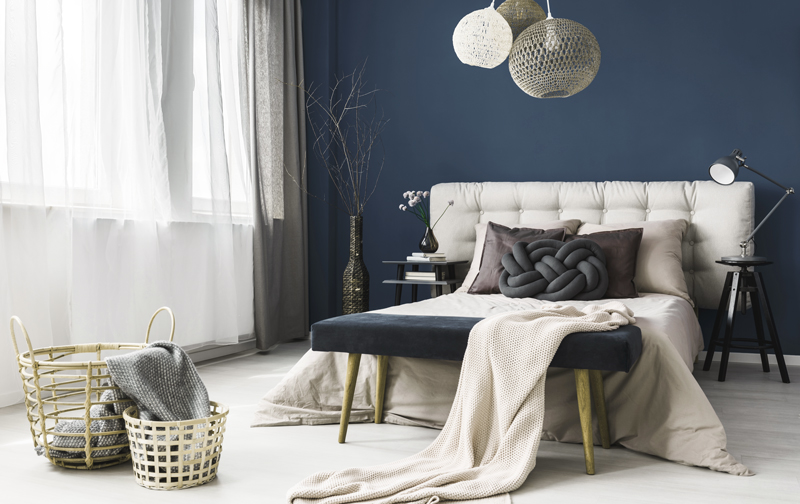 Create a sophisticated and stylish space to escape and relax in with the immersive quality of Into the Stratosphere. This deep and dark midnight blue is an ideal choice for an elegant bedroom feature wall, especially in combination with the cool tinted White Kitten. The addition of natural wicker and macramé accessories softens the mood, while bed linens and cozy throws in Power Lunch bring a light neutral touch.
For an instant interior makeover, spruce up fittings and cupboards with a fresh lick of paint. Here, the mid-tone Blue Jacket is applied to the base of an island, adding a bold pop of color. Drawing attention to the center of the room, this smaller kitchen feels family friendly and instantly welcoming. For a classic style, nothing beats a navy and white combo! Keep surrounding walls and woodwork in White Kitten and apply Into the Stratosphere to vanity units for a finish that's never out of style.
If minimal and clean is more to your taste, an allover coating of Blue Pot works beautifully in living rooms. The shaded nature of this cool blue creates a space that feels calm and collected. The graphic contrast of monochrome furnishings in White Kitten and Into the Stratosphere is super modern, not to mention an impressive backdrop for all those video calls!
From kitchens and bathrooms to work friendly corners and restful bedrooms, this predominantly blue palette successfully updates any interior space. Diverse by nature, blues can create environments that restore and soothe, or motivate and uplift. So, get inspired, grab a paintbrush and start painting!