Painter's Tape Wall Design
Posted 03/21/2013
---
For those ambitious DIYers who want to go beyond the traditional wallpaper and paint options for adding a personal touch to your home, have we found a project for you!
Painter's tape wall design!
Create your own pattern, pick your own paint colors and create a one-of-a-kind design that can serve as a subtle backdrop to a room or as a stunning focal point.
We've found a couple of different ways to go about creating your painter's tape wall design:
This Herringbone wall design looks expensive and chic, but really all it took was some painter's tape and a couple coats of paint.
Instead of a traditional headboard, this homeowner created a bold racing stripe on the wall behind the bed and carried it all the way across the ceiling and over to the other side of the room.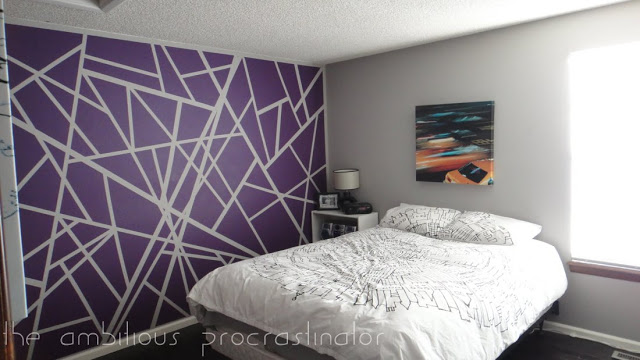 But you don't need to adhere to some strict geometric pattern when working with painter's tape. Nikki at Ambitious Procrastinator created her design by simply "going to town" with painter's tape. No rhyme or reason to her design, she just went with what felt good to her!
Morgan over at Pepper Design Blog also went free-form with her design, creating shapes out of painter's tape and then applying them organically to her hallway wall. We love that she applied chalkboard paint below the chair-rail of her design!