Decorating Your Home
WITH COLOR CONFIDENCE
Posted 10/01/2023
---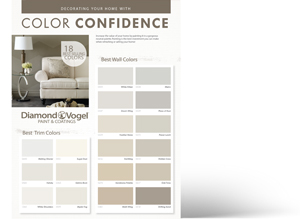 Increase the value of your home by painting it in a gorgeous neutral palette. A fresh coat of paint is one of the best (and most affordable!) investments you can make when selling or refreshing your home. Fresh, welcoming greys, beiges and whites allow potential buyers to imagine themselves and furnishings in the space.
ready to stage?
Diamond Vogel offers Color Confidence, a collection of eighteen proven neutrals that allow your walls to become a canvas to showcase your home.  Whether your home looks best dressed in warm or cool shades, this collection makes it easy to pinpoint the perfect hues for ceiling, trim, and walls.
tips for selecting paint color
living rooms and public spaces
Use the same color throughout the public spaces like living rooms, dens and dining rooms.  Using a monochromatic color scheme makes your space feel more spacious with a harmonious atmosphere.  Additional colors can be added for bedrooms, bathrooms and kitchens, but limit to no more than three colors throughout the house. Diamond Vogel's Sandstone Palette 0273 or Moth Wing 0183 are inviting neutral colors that work well in a variety of spaces.
---
bedrooms:
Opt for tones that evoke feelings of rest and relaxation. Try Oak Tone 0217 or Feather Stone 0229.
---
bathrooms:
Many homeowners make the mistake of painting bold hues in the bathroom. When preparing your home for sale, choose a soothing neutral, but remember to coordinate with tile and bath fixtures – consider a soft gray like White Kitten 0022 or a warm gray like Hidden Cove 0210.Avoid deep, dark tones – they'll only make the room seem smaller!
---
kitchens:
Think light and bright. Choose neutrals that have a high light reflectance value (LRV). Colors with an LRV above 50 are lighter and bounce back more light than they absorb. Higher LRVs help create an illuminated "daytime" feel. Diamond Vogel's Metro 0530 or Dove's Wing 0537 are great choices.
---
refreshing a ceiling:
When choosing a white for your ceiling, be sure to choose either a warm or cool shade to complement the undertone of your wall and trim color.
Pro Tip: Hold the color sample above your head in the room to be painted. A color will always appear darker on the ceiling.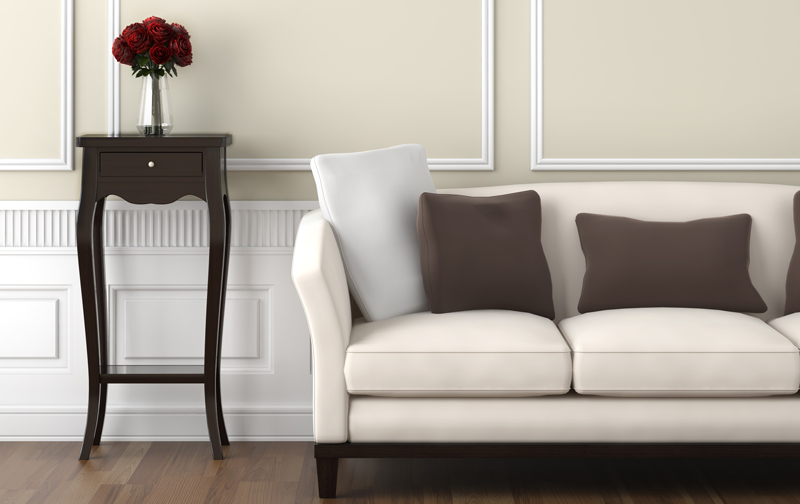 tackling trim:
Beautiful trim is stunning when painted a contrasting color.
Pro Tip: If your baseboard is plain, make it disappear by painting it the same color as the wall. The walls will look taller and buyers' eyes will be drawn to the room's best features.
adding interest:
Introduce different sheens for visual interest, the higher the gloss, the darker the color will appear. However, the higher the sheen, the more the wall imperfections will show.
Pro Tip: If walls aren't perfect, stay with a flat sheen paint.
---
six diy tips to sell your home fast
1. de-clutter:
Clear kitchen and bathroom counters. Give the impression of ample storage by cleaning closets and drawers.
2. tone it down:
Remove any unnecessary furniture that might make your space seem smaller than it is. If necessary, store excess furniture off-site to create a sense of spaciousness.
3. clean to the extreme:
Ensure windows, floors, counters, fixtures, and appliances sparkle and all light-bulbs are working.
4. breathe easy:
An unusual odor can turn a perspective buyer off. Simmer cinnamon sticks before a showing but put away all traces before buyers arrive. And remember, if odors are too strong buyers may wonder if you are masking something.
5. keep it fresh:
Fresh flowers and fruit are the perfect accessory when selling your home.
6. make a first impression:
Paint your front door a fabulous color, and stylize with a seasonal urn to enhance your home's curb appeal.