2019 Color of the Year
DAY SPA 0634 BY DIAMOND VOGEL
Posted 09/28/2018
---
Featured Colors: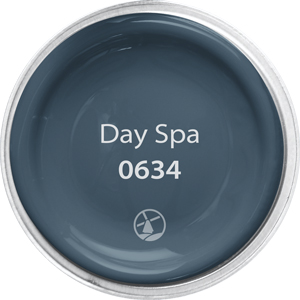 A deep, introspective blue that offers quiet reflection and a sense of security.
Day Spa is one of twenty trend colors highlighted in Diamond Vogel's 2019 Color Trend Report.  The report spotlights influential trend colors to watch paired in four directional trend stories.  Current trends are influenced by earth inspired tones and authentic hues that tie us to each other and the world.
---
Perfect Pairings
Day Spa pairs well with both warm and cool neutrals including grays, and is a stunning standalone accent. Quiet spaces using natural materials and earth inspired colors help to create places of comfort and inner peace.
---
Timeless Luxury
Day Spa, a powerful accent that showcases one's personal style and creates a dramatic backdrop for daily living. Day Spa's flexibility delivers color that is comfortable when used for interior spaces.
---
Connecting Spaces
Day Spa unites us with nature, as well as mind and body, and its ageless presence makes it versatile no matter the space. This deep, introspective blue offers quiet reflection and a sense of security.
---
Diamond Vogel's Color of the Year is selected as part of an annual vote of customers in a crowdsourcing event during the month of September.The other candidates for 2019 Color of the Year were:

PLATEAU 0704
Deep, lush, and confident, this natural green delivers an adventure based in nature. Plateau's style is perfect as a companion to popular styles like farmhouse and country chic yet works well in open concept spaces where you need a confident focal point to tie a large space together. There is comfort in classics, Plateau re-emerged as new, fresh, and relaxed.


GOLD TAFFETA 0276
Rich in patina, this timeless and authentic gold connects us to the world around us. Gold Taffeta offers sanctuary from our hurried world, a warm embrace that welcomes us home and keeps moving us forward. Use Gold Taffeta as a grounding accent with brighter colors, or as a stand star that inspires comfortable spaces.

 


NEW FOLIAGE 0400

A soft and romantic green that sets a calm tone that is fresh and balanced. This nature-inspired hue takes us on a journey that is inspirational, spiritual, and healing. New Foliage's energy creates a space that is uplifting and empowering.
Try our 2019 Color of the Year:

Color Sampler
Color Sampler is a quart sized sample that helps you test color before you buy. There is no better way to try a color than to paint out a sample in the space, so it can be viewed with your own furniture, lighting and accessories. Learn More

Envision
Envision color visualizer helps you visualize any of our colors before you paint. Just upload a photo of your project - it is that easy! Learn More

2019 Color Trends
Color can create spaces that are optimistic, meaningful, and exciting. Weaving color into our homes, especially against current palettes of gray and neutrals keeps a space fresh and relevant.Learn More