Posted 06/11/2014
---
More Americans are working from home, either for their workday or in addition to their office hours. With all of the time we are putting in on our work laptops and tablets, it's time to take a hard look at the home office.
You should be able to settle in, focus on the work at hand, but also have aesthetics that you enjoy. When it comes to home office décor, there are some amazing paint options that can add pizzazz and visual interest.
According to an article from Forbes, your home office color can support your specific job. For example, using red as an accent color might be good for a person in sales because it gives a feeling of energy, blue for someone who aims to be calmer, and green if your job requires you to be creative.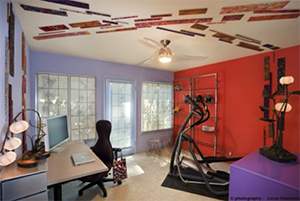 When you're trying to choose between paint colors, it can be hard to know where to start and what color might be right for you and your home. If you feel stumped there's help available— stop by Diamond Vogel and have the staff offer suggestions or use our online color visualizer, Envision to view color options and visualize colors using a photo of your own space.
Your home office should be a place that supports your work life and career, make it your space to enjoy!